What is EBT?
EBT is a simple, proven brain-based method for rapidly reducing stress and training the brain for resilience.
Stress is the #1 epidemic worldwide and the root cause of 80% of problems. Our emotional brain is the "stress brain" and can bounce back from stress rapidly and change its structure and function to solve problems.
The Solution is Simple
The great news is the problems we all live with tend to disappear or stop bothering us when we use the EBT tools to keep the brain's stress switch ("hypothalamus") off. Our emotions flow from stress to joy and problems seem like opportunities, and opportunities - - - well, they are good things!
It's a simple solution, all based on neuroscience, and developed over the last 30 years. You learn the tools online and begin giving them a try. After a while, we suggest joining a telegroup or arranging for coaching to see better results faster and have what we all need right now – a little tenderness, some laughter and yes – great results. All support is private, confidential and convenient.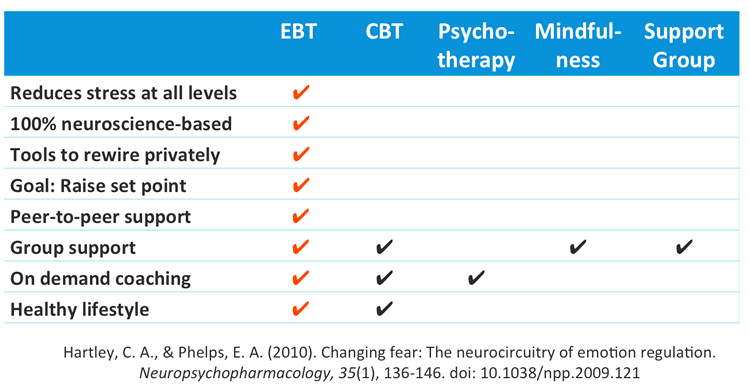 A Proven Pathway
With EBT, you are always in charge. Go at your own pace, choose the problems you want to solve, the behaviors you want to change and the rewards that are most important to you. The EBT program includes these four steps:
EBT Step 1. REDUCE YOUR STRESS Start by learning the tools to flip the "stress switch" in the brain to turn off stress and activate positive emotions. You learn how to allow your feelings to flow, so that negative emotions turn into positive emotions.
EBT Step 2. MAKE BEHAVIOR CHANGE EASIER Next experiment with keeping your usual daily schedule, but shaping it slightly so that you ease stress and create more pleasure. Use our proven 3-Day Vibrancy plan to give you a natural chemical boost so that changing behavior becomes easier.
EBT Step 3. SOLVE PROBLEMS Deepen your understanding of EBT and sharpen your skills so you can start solving problems. You'll learn how to identify a brain circuit that causes a problem, and to use the tools to weaken that circuit so it stops bothering you – and you can move forward in life.
EBT Step 4. CREATE JOY After completing the first three steps of EBT, you will have learned the skills to take charge of your emotional brain and your life in new ways. If you like, continue with EBT to complete the advanced courses, with the goal of improving your brain's emotional set point. There are seven EBT advanced video courses, one for each of the rewards of optimal brain functioning: sanctuary, authenticity, vibrancy, integrity, intimacy, spirituality and freedom.
The first step in EBT is to join and get started!